It's Exterior Renovation Time!
---
---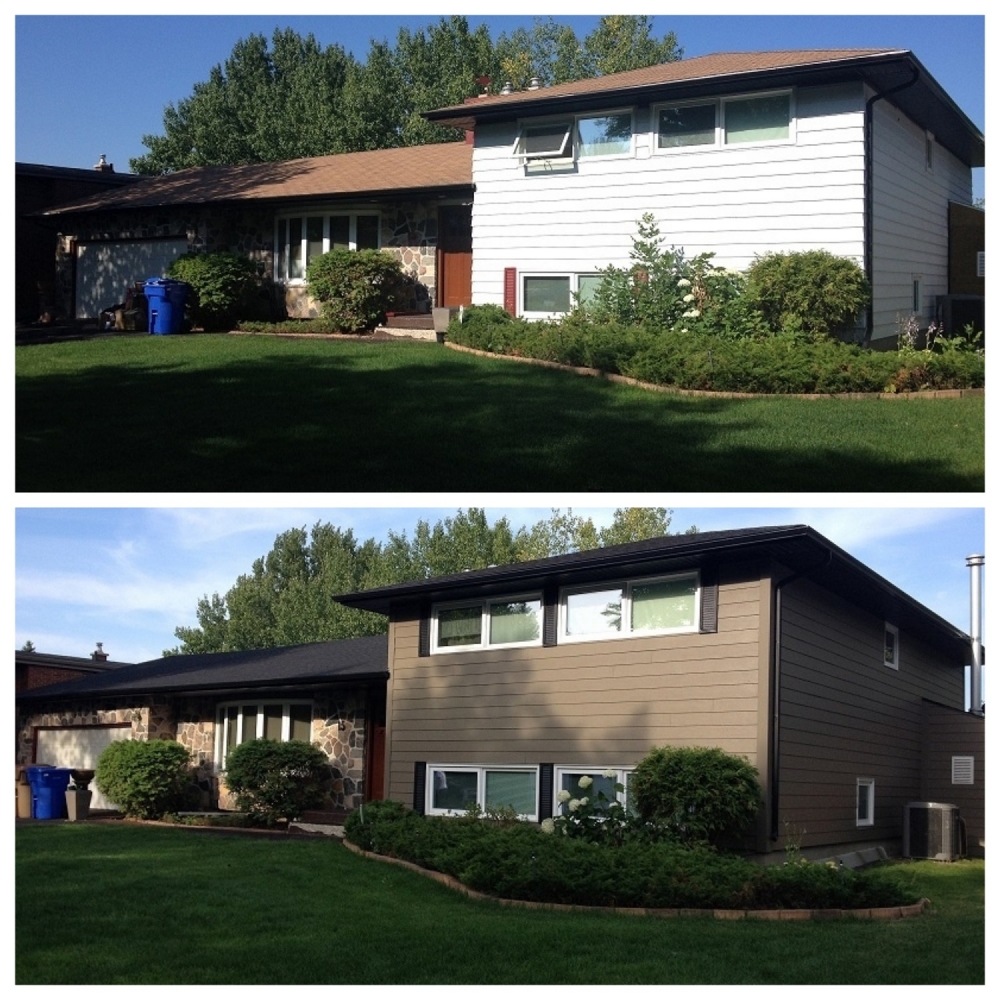 Spring is here and that means it is the start of the exterior renovation season.
As you begin work on spring cleaning your yard in preparation for summer planting and relaxing, why not take a look at the condition of your home's exterior. Your yard might look great after some much needed attention after a long winter but how does your house look?
Here are some reasons why now is the time for an exterior renovation.
Your Gutters and Soffits are damaged
Your gutters, or eavestrough, are an integral part of your home's exterior. Their function is to drain water from your roof and away from the foundation. If the eavestrough is falling off or you're missing or have damaged downpipes, then your home is at risk of water infiltration which can cause the underlying structure to mold and/or rot and the foundation to crack.
The soffits cap off the overhanging portion of the roof and assist in the ventilation of the attic. If any of the soffits are damaged or even missing then not only will the exterior start to look bad but it will become a spot for weather elements like snow and rain along with debris to find its way into the underlying structure. This is not a good thing at all. Snow and rain equal moisture and when that moisture finds its way in, there usually isn't a way out, so again, you will be faced with mold or rot issues. On top of that, missing pieces of soffit is an open invitation for birds and critters to find a new place to call home.
Your siding is damaged
Damaged siding is never good. Have you noticed any cracks, scratches or dents in your siding? What about missing pieces? Are there signs of water seepage or rot?
The siding on your house is the largest protective barrier that keeps the elements out. Once damage occurs, the protective barrier that keeps water and moisture from entering the structure is compromised. What might seem like an insignificant surface issue, if neglected, has the potential to lead to bigger problems with mold and rot within the walls of the house structure. This will surely lead to a much bigger repair bill down the road.
Your siding is worn out.
Siding helps to keep the heat of summer and the cold of winter at bay. If your siding is worn out, it is unable to perform at its peak efficiency meaning you will likely encounter heat loss in the colder months and a constantly running A/C in the hotter months. A higher energy bill that is preventable is like watching your money go down the drain. One thing to remember when deciding its time to redo the siding is that it is the perfect opportunity to add insulation and improve the R-value. This will help boost your sidings efficiency and its ability to regulate the homes temperature giving you the added bonus of energy savings.
Your siding lacks curb appeal
Is your siding so old that it looks like a blast from the past? Are the neighbours redoing their siding and you find yourself comparing your house to theirs? Is it making you think of redoing your own? Perhaps you've finished renovating the interior of your home and you want an exterior to match. Maybe you have future plans to sell your house.
Updating your exterior siding is a sound financial investment. Modernizing it and improving the R-value is a smart decision as it will protect the underlying structure and the contents within while saving you money in the long run with improved energy efficiency. Increased curb appeal will provide greater resale value and it will allow you to have peace of mind knowing that your house will look great for years to come.
We at Exterior Finishers Direct want to help you breathe new life into the appearance and function of your home's exterior.
Contact us today and let's get started!
---