Custom Cladding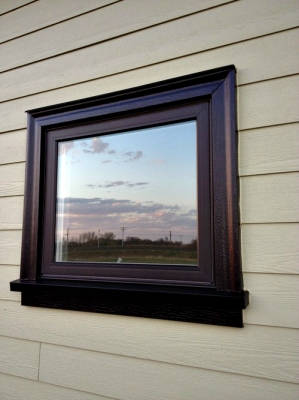 Exterior Finishers Direct offers custom cladding!
When renovating the exterior of your home, you may need or want to update the brickmolding around your windows and doors. A maintenance free solution is to clad the brickmold with an aluminum trim coil. This comes in a range of colours to match your exterior. The typical way brickmold is cladded results in a plain flat surface. It does its job for sure and looks just fine and updated but what if you could have a technique applied to the trim piece that results in a more enhanced style creating individuality and added value to your home's exterior?
We supply our own cladding which is bent up on site or in our shop using a sheet metal bending brake. How we make our cladding into custom cladding is by using a tool called the Brake Buddy. While bending each trim piece, the Brake Buddy, using rib rollers, can apply profiles such as Traditional Brickmold, Graduated Brickmold and Crown Molding. It's an option most definitely worth considering. You won't be disappointed!
Use the contact form below or give us a call us to book your estimate today!
---